"Laugh with Us, Dance with Us!"



Adult

Dance Classes & Two Left Feet®

In as little as 3 lessons you can prepare for your own wedding, your child's wedding or any wedding you are going to attend. Do you have more time? Then you will be able to dance at any future receptions by knowing more than 1 dance style.
Most first & third Fridays of the month we have dances for you to enjoy. We also have special events, like dance cruises or let you know about area events too!
In our 50 minute lessons, you will learn the dances you want at your own pace. We are here to enrich your experience whether you have "Two Left Feet" or have previously taken dance lessons.
"Laugh with Us, Dance with Us!"

TM

Teaching since 2001 - The original Kentlands Dance Studio
Our classes are limited size so you get personalize attention. If you dance as a single you will be with another single dancer or the instructor if you come as a couple you will dance together. Unlike other studios & dance instruction, we never make you switch partners. We want you to enjoy your experience.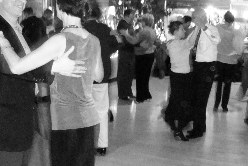 URBAN Dance :
Popping, Locking & Hip Hop
TAP Dance :
Beginner & Experienced

At Two Left Feet®, we are beginner friendly and ready to introduce you to the world of dance. Our studio is not about competition but being comfortable with movement, your body and dancing. Whether you have a special occasion coming up, this is something you've always wanted to learn or you are looking for a new fun hobby, our knowledgeable instructors are here to guide you toward your personal dance goals.