"Laugh with Us, Dance with Us!"



Adult Private Dance Classes with Two Left Feet®

At Two Left Feet®, we are beginner friendly and ready to introduce you to the world of dance. Our studio is not about competition but being comfortable in any social situation.
Whether you have a special occasion coming up or this is something you've always wanted to learn, our knowledgeable staff is here to guide you toward your personal dance goals. Unlike other studios, you do not have to take tests to continue learning. In our 45 minute lessons, you will learn the dances you want at your own pace. We are here to enrich your experience whether you have "Two Left Feet" or have previously taken dance lessons.
3 Private Lessons
This is perfect for seeing what dance lessons are all about. In 3 lessons you can learn 1 or 2 dances about 3-4 steps. This is a great quick fix if you are limited in time and have an event in the near future.
12 Private Lessons



If you want to look smooth, like you know what you are doing vs. like you just came out of dance lessons, then 12 lessons are where you need to start. You can learn 2-4 dances, a couple fast and a couple slow to be ready for any social situation where there is dancing.
Beyond 12 Lessons
Yes, you can take more than just 12 classes but we only schedule 12 classes at time. Unlike the other chain studios, we aren't in the business of selling you 50-100 lessons at a time and locking you into long expensive contracts. We are here to help you enjoy the journey of learning to dance.
How long will it take, me or us, to

learn?
Dancing, like any sport, takes time and practice.
Everyone learns at a different rate and that will depend on you. Do you learn physical things "naturally" or do you have to practice over and over to memorize something? Will you make time to practice at home? Do you plan on attending a Friday Night Dance Social?
Beginner Level aka Bronze Level takes 2 years to complete about 4-6 dances. You will be a comfortable and smooth social dancer.
Intermediate Level aka Silver Level takes 4-8 years to complete. You will know styling, technique, how to match the dances style to the music, leading, following and navigating the dance floor. You will be a confident social dancer.
Advanced Level aka Gold Level is for the hobby dancer. This level is for the person that will take a several classes a week, attend every social dance and seek out dancing opportunities. A Gold dancer learns 12 or more styles of dance, around 50 steps or patterns per dance and several variations. An amazing Advanced dancer will share their enjoyment of dance and dance with every level of dancer.
6 Private

Lessons
If you give your self a little more time you will be a lot more comfortable recognizing the music and being able to dance to the beat in 6 classes. You will learn 1-3 dances and be able to dance 2-5 steps will comfort level.
Why choose Two

Left

Feet?
You can just take Private Lessons - you don't have to buy a package of groups and parties.

You learn the dances you want to learn.

You don't have to take test to move up to the next level.

You learn at your pace.

If you are a fast learner and practice at home, we can teach you more material, if you prefer slow and repetition and using classtime to pratice, we will review and repeat.
Will I/we be the only one in the studio?
For PHASE 2: Yes
For PHASE 3 forward NO: Unless you choose the Private Studio-Private Lesson option there may be another teacher with their private lessons at the same time as your private lesson.
-
Our standard offer is One-on-One Private Lesson instruction; you don't have to share your teacher, like a group class, but you will share the studio space.
-
You can reserve the entire studio just for your Private Lesson and your instructor only. This option is called a Private Studio-Private Lesson. The cost is $150/class hour or 6 lessons = $900.
This guarantees your private lesson time does not have to share the studio with another private lesson. Let us know right away if you want this option so we can see what time are available to block out studio time for you.

Note: Other dance studios with same size dance floor as ours will fit as many as 4 private lessons at the same time. We will only have 2 private lessons simultaneously in our dance studio.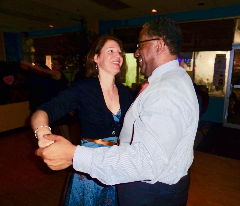 "Laugh with Us, Dance with Us!"

TM

Teaching since 2001 - The original Kentlands Dance Studio