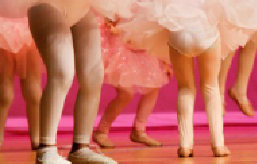 Child & Adult Participation Class
21/2-31/2 years Child Class

Children ready to participate without an adult
30 minute classes for the new dancer
31/2-5 years Preschool Age Child Class

40 minute classes
Ballet & Tap
6-10yo Beginner Hip Hop/Pop
POMS: Poms, Lyrical, Hip Hop

Cheer

7-17 year: POMS, Pointe, Tap, Talent Show & more
POMS Clinic

Cheerleading

Musical Theater / Broadway

Pointe

Modeling, Acting & Etiquette

Birthday

Girl Scout

Parents Night Out & more...

Like us on Facebook to see specials, discounts & announcements you won't find anywhere else.
Two Left Feet® Dance Studio
offers beginner friendly - family friendly dance instruction.
Catering to our Kentlands & Lakelands neighbors in

Gaithersburg and

serving the metro DC area.
We are a non-competitive dance studio.
2016 Winter

& Spring

Registration OPEN!
Winter Session:
Sign up by

February 29 to be in
our next Dance
Performance
!
*Dance with Me & Just Dance you can start any time!!
SAVE $50 when you sign-up for both Winter & Spring session by March 15, 2016
(Just Dance option not eligible for

discount)
Spring Session: open for enrollment May-June 2016